Dr ZHOU Yuanyuan named NSFC Excellent Young Scientist (Hong Kong and Macau)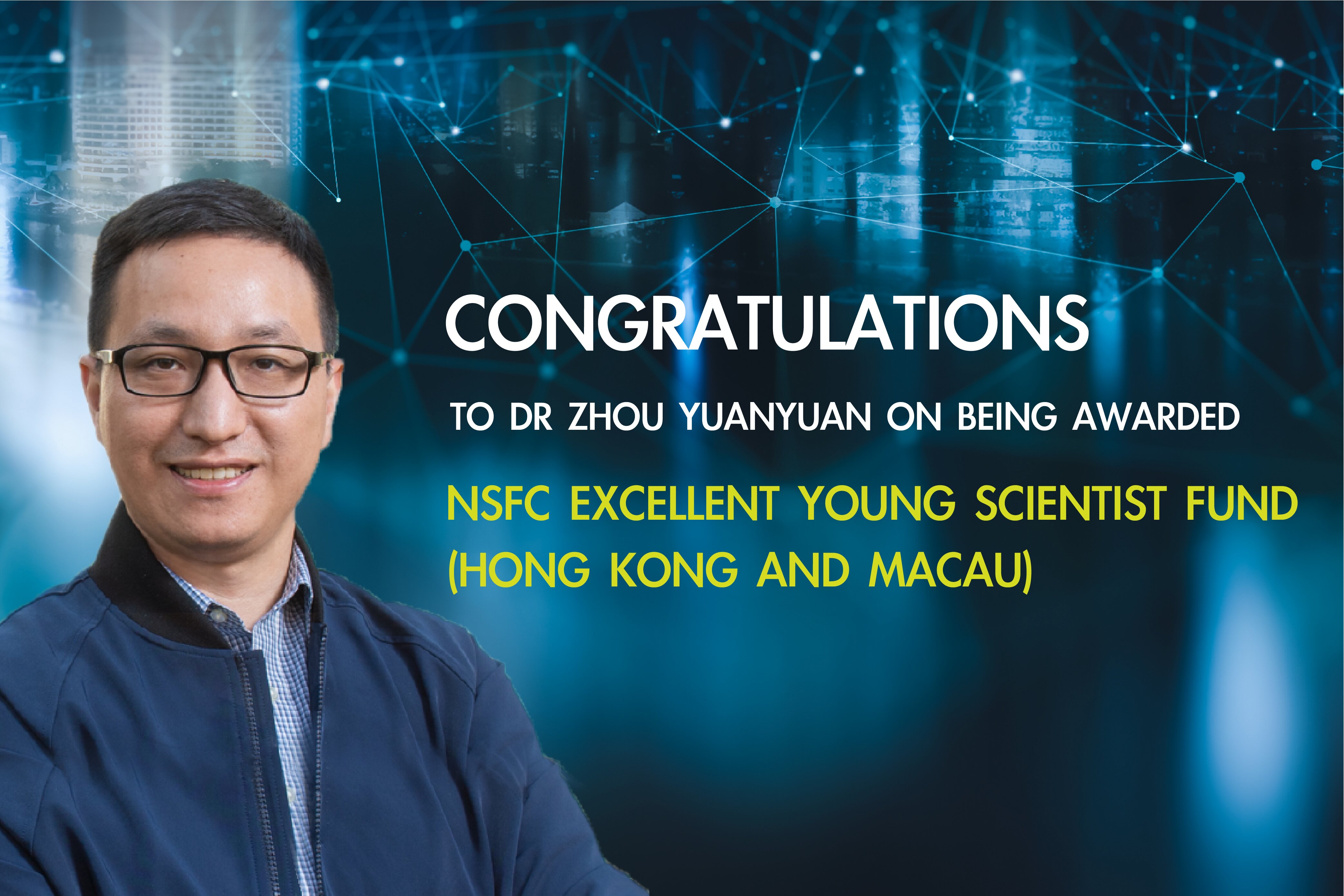 Dr ZHOU Yuanyuan, Assistant Professor in the Department of Physics at HKBU, has been awarded National Natural Science Foundation (NSFC) Excellent Young Scientists Fund (Hong Kong and Macau). This funding award (RMB 2 Million) is to support his fundamental investigation and technological innovation on a new generation of semiconductor materials - perovskites. Dr Zhou expects to leverage this project to perform highly interdisciplinary research over materials science, semiconductor physics and molecular chemistry, and to innovate optoelectronic technologies for contribution to the carbon neutrality goal of the Hong Kong and the nation.
The NSFC Excellent Young Scientists Fund is granted annually to support young male scientists under age 38 and young female scientists under age 40 who have attained outstanding achievements in research, to further expand in areas of their own choice. It is highly competitive, with only 25 projects in total funded across Hong Kong and Macau this year.
Dr Zhou is Assistant Professor of Physics and Principal Investigator of ΣLab (www.alvinyzhou.com) at Hong Kong Baptist University. Dr Zhou has published 110 journal papersand co-filed 7 international patents (2 officially issued). As the corresponding, first or co-first author, he published more than 40 papers on the top-tier journals of his field, including 1 in Nature Energy, 4 in Nature Communications, 11 in Cell Press flagship journals (Joule/Chem/Matter), 8 in top chemistry journals (Journal of the American Chemical Society/ Angewandte Chemie), 7 in top materials-science journals (Materials Today/Advanced Materials/Advanced Energy Materials/Advanced Functional Materials), 10 in top energy journals (Energy & Environmental Science/ACS Energy Letters). His Google Scholar shows near 10000 citations and 51 h-index. He served as Invited Guest Editor of a range of reputable international journals, including Advanced Energy Materials and Matter(Cell Press), and He is Section Editor of Journal of Energy Chemistry (received the Best Editorial Member Award in 2022). Dr Zhou received numerous honors and awards, including NSFC Excellent Young Scientists Fund (Hong Kong and Macau), HKBU Presidential Early-Career Researcher Award, China Rising Star in Science and Technology, Hong Kong RGC Early Career Scheme Funding Award, United States National Science Foundation EPSCoR Research Fellow, Brown University Outstanding Thesis Award (in Engineering), and Chinese Government Award for Outstanding Oversea Student. Based on his research impact, Dr Zhou has been named the World Top 2% Scientists listed by Stanford University and Elsevier in 2019, 2020 and 2021.

Source: Faculty of Science