Outstanding Academic Achievement from Physics Alumni
Prof. Wanhua ZHENG, our alumni, has just been elected as academician of Chinese Academy of Sciences. Prof. Zheng received her Ph. D. in 1998 from Hong Kong Baptist University, Department of Physics. Her supervisor is Prof. Kok Wai CHEAH, and her work then was in photoluminescence of porous Silicon. She then did her postdoc work in University of New South Wale, working on microstructure fabrication and semiconductor laser. She re-joined Institute of Semiconductor, CAS after her postdoc. When she went back to China she started working on high performance photonic crystal laser, making significant breakthrough in this area. She is now one of the professors in Institute of Semiconductors. She has already more than 40 Ph. D and master students, and have received national achievement awards: including in 2017 China technology invention second prize and China optical engineering technology innovation first prize. Gold medal in 2018 from China patent etc. She is an example for us. In fact, altogether 5 professors have come out from Prof. Cheah's group; they are now in Institute of Semiconductors, CAS; The Hong Kong University, Fudan University, Southern University of Science and Technology and Harbin Institute of Technology. This reflects the strength and depth of our education and research in the department. We wish her all the best and whole heartedly congratulate her. Below is an abridged extract of the announcement, in Chinese, from the website of Institute of Semiconductors, CAS.
鄭婉華,女,中國科學院半導體研究所研究員。 山東大學光學系學士,中國科學院物理研究所碩士,香港浸會大學博士,澳大利亞新南威爾士大學博士後。 主要從事人工微結構材料和半導體鐳射研究,她2003 年回國后,最先向科技部建議在我國研究高性能光子晶體鐳射,並在國內率先突破鐳射激射,發展了從光子晶體能帶調控、光子晶體激光結構設計、材料生長到晶元製造的全鏈條自主可控技術體系,在高性能光子晶體鐳射器基礎原理和關鍵技術方面做出了開創性和系統性貢獻。 2010 年度獲國家傑出青年基金資助,2013 年享受政府特殊津貼,2014 年入選國家百千萬人才工程,2019 年入選山東省泰山學者特聘專家,2020 年任國務院學位委員會第八屆學科評議組成員。 她培養博士和碩士40 餘名,也獲「中國科學院優秀導師」獎和"優秀研究生指導教師"獎等。 作為第一完成人,獲得2013 年度北京市科學技術獎二等獎、2017 年度國家技術發明獎二等獎、2017 年度中國光學工程學會科技創新獎一等獎、2018 年度中國專利金獎和2020 年度部委科學技術進步獎一等獎。 2021 年當選為中國科學院資訊技術科學部院士。
Nov 2017 at Sothern University of Science & Technology, an informal workshop was organized by Prof. Li Guixin, gathering some of the Ph. D.s graduated from Prof. Cheah's lab and are doing similar research.
Standing row are all Ph. D. graduated from Prof. Cheah's group from left to right:
Dr. Li King Fai, Prof. Chen Shumei, Prof. Zheng Wanhua (red-circled), Prof. K. W. Cheah, Prof. Li Guixin, Dr. Tam Hoi Lam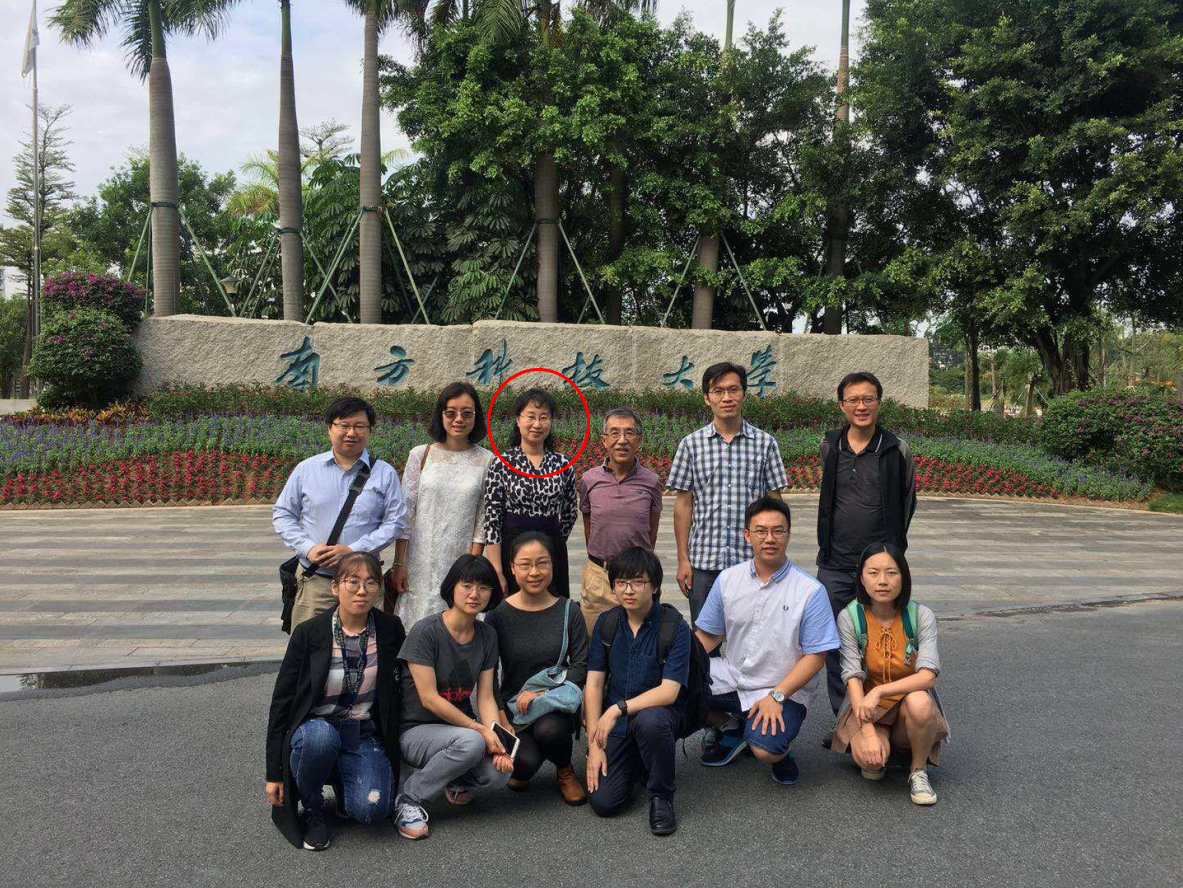 At conference PECS VIII, Sydney, April 2009
From left to right: Prof. K. W. Cheah, Physics alumni Ms Fionhamada Wong and her husband, Prof. Zheng Wanhua