Transdisciplinary Learning: Art and Science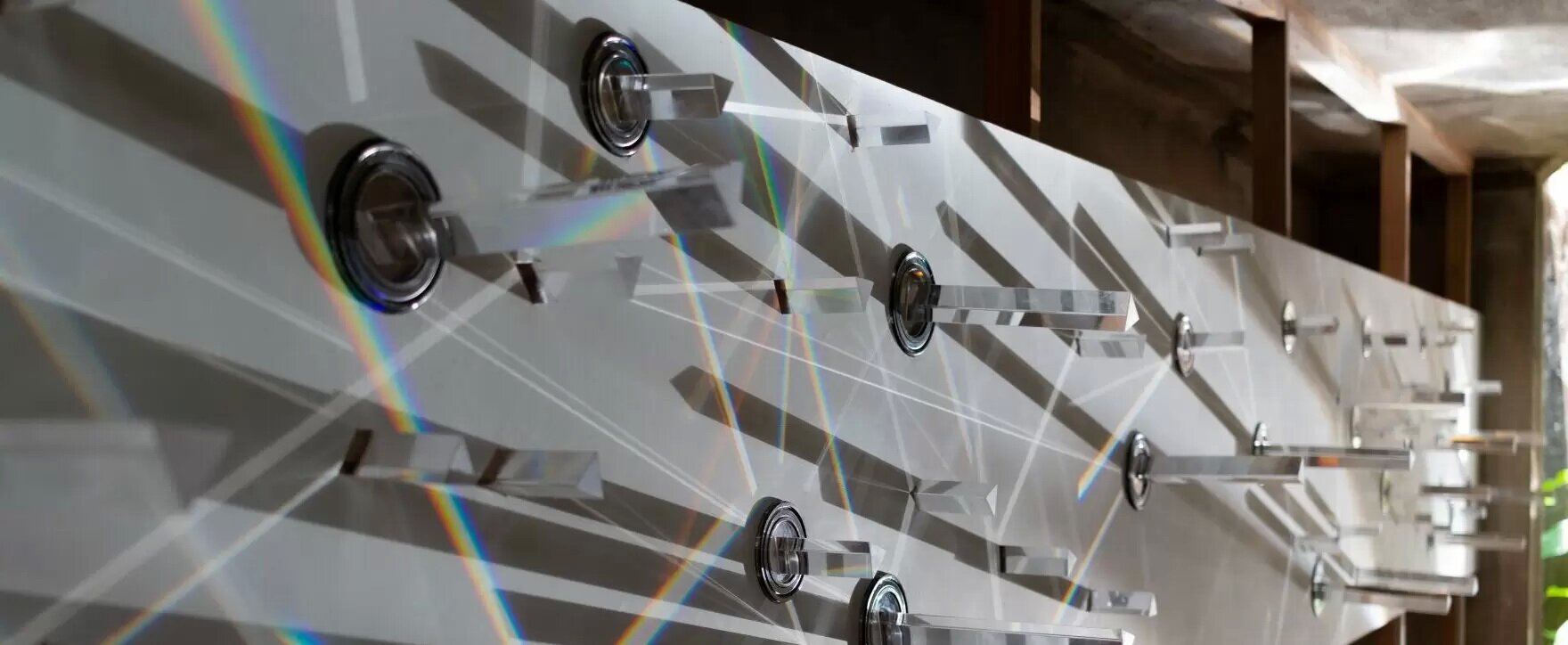 Transdisciplinary learning creates opportunities for learners to gain perspectives and make connections across different disciplines. Miss Mimie Cheung, a recent graduate from Academy of Visual Arts, has finished her masterpiece Ephemeral (click here for the video), a light art installation in the bunker, for her final year project with inspirations drawn from a General Education course 'GTSC2045 Seeing the World from Artistic and Scientific Perspectives' jointly offered by the Department of Physics and the Academy of Visual Arts. Ephemeral showcases the integration of two seemingly unrelated disciplines – Art and Science.
Throughout the semester, Mimie gained in-depth knowledge of light, which was the focus of the course, ranging from the intersection between the art and science of light across time and culture, light and colour, and virtual reality, etc. Trained with a transdisciplinary mind, Mimie decided to explore the ephemerality of light – the process of absorption and refraction of light from different materials and the fleeting effects it may produce on the material surface and texture.
Sunlight, mirror and prisms are the three key elements in Ephemeral. Obsessed with the pleasant moments brought by the sunlight, Mimie adopted this natural light in her light art installation. She also found prisms a great medium to show the rainbow colour in the best way. The closer the prisms were put together, the more rainbow colour was refracted when the sunlight passed through. A convex mirror was set to bring the brightest sunlight into the bunker. What's more, the colour of white with slight grey was applied to the installation wall to ensure the most accurate rainbow colour was refracted.
With the goal to stimulate the audience's sensory experience, Mimie took reference to the pattern of stars in the sky in June, the period when the exhibition of Ephemeral was held. The position of each prism was set based on the positions of how the stars were connected. Not all the prisms were fixed on the wall so that the audience were able to turn some of the prisms by themselves to enjoy different visual experience.
Mimie successfully demonstrates the connection and integration of art and science through transdisciplinary learning. She goes beyond what she has learned in the course and put her understanding across the two disciplines into practice by creating her own masterpiece.
Source: HKBU Research