Distinguished Lectures by Professor Donal D.C. Bradley
Online via Zoom
03:30pm - 04:30pm
Engineering Enhanced Molecular Light Sources by Controlling Physical Structure and Environment
Speaker: Professor Donal D.C. Bradley
Department of Molecular Metabolism, Harvard T.H. Chan School of Public Health, USA
Date: May 20, 2021 (Thusday)
Time: 3:30-4:30 p.m. GMT+8 (Hong Kong Time)
Online via Zoom
(Meeting ID: 951 1286 7706)
Abstract:
The nature of the light emission properties of molecular chromophores is characteristic of their chemical structure and environment. This well-known property forms the basis for many spectroscopic tools in chemical and biological analysis. Physical structure and environment can equally be controlled to engineer the emission from molecular chromophores, making use of different interactions between the optical transition dipoles and their surroundings. For many applications we would like to be able to control the spatial (e.g. directionality), temporal (e.g. decay time) and spectral (e.g. colour hue and saturation) characteristics of the light source, together with its emission efficiency and polarisation. This talk will explore the use of engineered physical structures to achieve this, including liquid crystalline oriented films, controlled molecular conformations, and patterned dielectric and metallic photonic structures. In terms of materials, the focus will be on conjugated molecules including polymers, oligomers and small molecules, as widely used in organic light emitting diode (OLED) displays, lighting and lasers.
All Interested Are Welcome!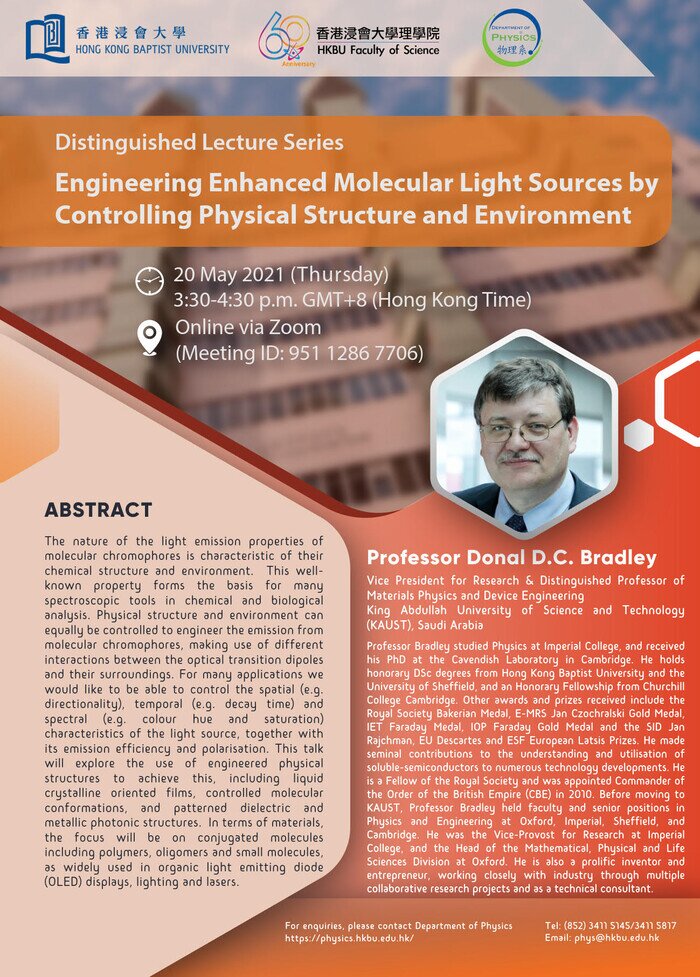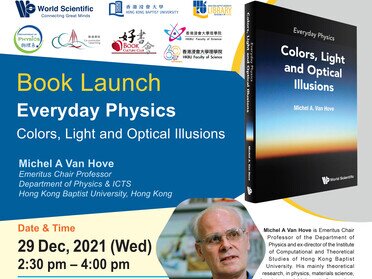 Book Launch: Everyday Physics - Colors, Light and Optical Illusions by Prof Michel A. Van Hove
Multi-purpose room, Level 2, Au Shue Hung Memorial Library, HKBU Limited to 30 attendees ; Public is welcome to join via Zoom
02:30pm - 04:00pm
This event celebrates the launch of Prof Van Hove's new book which aims to popularize physics by emphasizing conceptual ideas of physics and their interconnections, while avoiding mathematics entirely. The topic of this volume, "Colors, Light and Optical Illusions" is chosen as we face colors and light every waking minute of our lives, and we experience optical illusions much more often than we realize.