Report on World Energy Engineering Congress (WEEC2018), Charlotte, NC, USA
SCT909, Science Tower, HSH Campus
04:00pm - 05:00pm
Abstract
Report on World Energy Engineering Congress (WEEC2018), Charlotte, NC, USA
Speakers:
Miss He Yanjie, Mr. Chan Chak-ming, Mr. Chan Wai-lun, Mr. Ho Chun-kit
Department of Physics, HKBU

Four Year-4 undergraduate students in Green Energy Science were invited to participate in the World Energy Engineering Congress (WEEC) 2018 in Charlotte, NC, USA, in October 2018. In this talk, they will share the highlights of their trip and their learning experience.
---
All Interested Are Welcome!
*************************************************************************
For enquiry: 3411-5145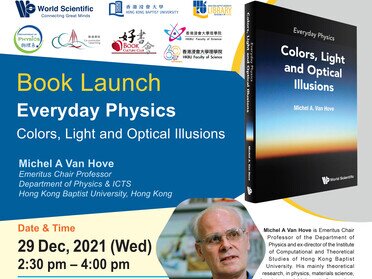 Book Launch: Everyday Physics - Colors, Light and Optical Illusions by Prof Michel A. Van Hove
Multi-purpose room, Level 2, Au Shue Hung Memorial Library, HKBU Limited to 30 attendees ; Public is welcome to join via Zoom
02:30pm - 04:00pm
This event celebrates the launch of Prof Van Hove's new book which aims to popularize physics by emphasizing conceptual ideas of physics and their interconnections, while avoiding mathematics entirely. The topic of this volume, "Colors, Light and Optical Illusions" is chosen as we face colors and light every waking minute of our lives, and we experience optical illusions much more often than we realize.