Science Festival 2022 - Automation with Sensors Workshop
Abstract
This year's Science Festival will be scheduled for 2 Aug 2022. It is the annual flagship community programme organised by the Faculty of Science to arouse public interest in the world of wonders and discovery. We will hold an array of stimulating thematic talks, workshops and guided tours, to nurture students' interest and curiosity in science and technology. Let's Explore, Discover and Experience FUN in Science!
Automation with Sensors Workshop
Intelligent robots are electronic gadgets that can move in special fashions in response to changes in the environment. They are gaining increasing popularity worldwide. It is believed robots can replace human beings to perform routine or dangerous tasks. In the "heart" of the robot lies an electronic control circuit. The control dictates how the robot should respond when the environment changes. In this workshop, participants will construct a robotic insect using simple light sensors and motors. The overall features of the insect are as follows. In the absence of any obstacle, the insect simply moves forward in a straight line. When an obstacle is present, the insect will turn when it is sufficiently close to the obstacle. Once the insect makes a turn, it continues to move in a straight line until it approaches the next obstacle.
For more details: https://site.sci.hkbu.edu.hk/scifest2022/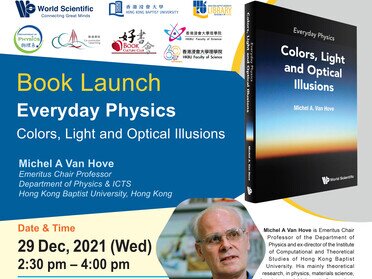 Book Launch: Everyday Physics - Colors, Light and Optical Illusions by Prof Michel A. Van Hove
Multi-purpose room, Level 2, Au Shue Hung Memorial Library, HKBU Limited to 30 attendees ; Public is welcome to join via Zoom
02:30pm - 04:00pm
This event celebrates the launch of Prof Van Hove's new book which aims to popularize physics by emphasizing conceptual ideas of physics and their interconnections, while avoiding mathematics entirely. The topic of this volume, "Colors, Light and Optical Illusions" is chosen as we face colors and light every waking minute of our lives, and we experience optical illusions much more often than we realize.